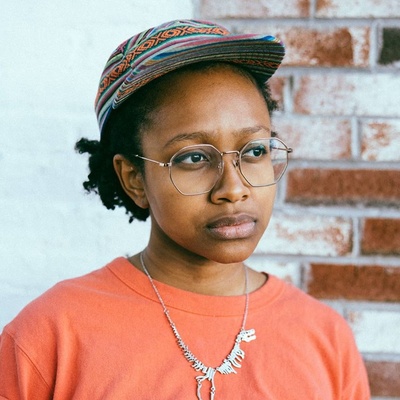 Ayanna Woods
Composer & Performer
3Arts / Make a Wave Artist
Ayanna Woods is a composer, performer, and bandleader from Chicago. Her music explores the spaces between acoustic and electronic, traditional and esoteric, wildly improvisational and mathematically rigorous. A collaborator across genres and forms, her work spans new music, theater, film scoring, arranging, songwriting, and improvisation. She earned her B.A. in music from Yale University.
Woods has collaborated on projects with Chanticleer, The Crossing, Third Coast Percussion, Manual Cinema, the Chicago Children's Choir, Chance the Rapper, and her sister Jamila Woods, among others. In 2018, she originated her role as a vocalist in Place, an oratorio about gentrification and displacement co-conceived by Pulitzer Prize finalist Ted Hearne, director Patricia McGregor, and poet/librettist Saul Williams. The album version of Place received two Grammy nominations. Woods is also a sought-after bassist and improvisor in Chicago. As the bassist for the group TASHA, she toured the west coast and performed at Pitchfork Music Festival in 2019.
Woods is a recipient of Third Coast Percussion's 2017 Emerging Composers Partnership, a 2017 3Arts Make A Wave grant, and a 2020 DCASE Individual Artist Program grant.
Profile image by: Kyle Picha Photography
Ayanna Woods has crowd-funded a project with 3AP
$7,680 raised of $3,750 goal
0 Days 0:00:00 LEFT

3Arts matched
205% funded

I'm recording my first EP, and I can't do it on my own! My band, called Yadda Yadda, is planning to release a debut EP of seven original songs honed over the last six years. We make expansive R&B that …

Read more about The Yadda Yadda EP