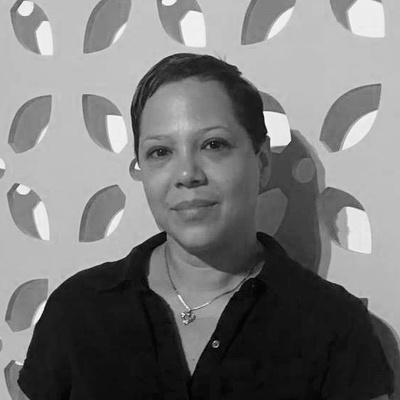 Edra Soto
Visual Artist
3Arts / Make a Wave Artist
Edra Soto (b. Puerto Rico) is a Chicago-based interdisciplinary artist, educator, curator, and co- director of the outdoor project space THE FRANKLIN. She is invested in creating and providing visual and educational models propelled by empathy and generosity. Her recent projects, which are motivated by civic and social actions, focus on fostering relationships with a wide range of communities.
Recent venus presenting Soto's work include Chicago Cultural Center (IL), Nerman Museum of Contemporary Art (KS), Pérez Art Museum Miami (FL), Museo de Arte de Puerto Rico (PR), Hunter EastHarlem Gallery (NY), UIC Gallery 400 (IL), Smart Museum (IL), Bemis Center for Contemporary Art (NE), DePaul Art Museum, and the Museum of Contemporary Art of Chicago (IL). Soto was awarded the Efroymson Contemporary Arts Fellowship, the DCASE for Individual Artist Grant from the City of Chicago, the 3Arts Make A Wave award, and 3Arts Projects grants, and the Illinois Arts Council Agency grant.
Soto has attended residency programs at Skowhegan School of Painting and Sculpture (ME), Beta-Local (PR), the Robert Rauschenberg Foundation Residency (FL), Arts/Industry at the Kohler Art Center (WI), Ragdale Foundation (IL), and Art OMI (NY), amongst others. During the fall of 2017, her project Open 24 Hours was commissioned by Headlands Center for the Arts (CA) to be presented at their Project Space as part of her residency. Also during 2017, Project Row Houses (TX) hosted her as part of the 222 Exchange Program in partnership with the Hyde Park Art Center (IL). Upcoming residencies include the Google Creative Fellowship, AIR program (CA), and Montalvo Arts Center (CA) through 3Arts.
Her co-curation for the exhibition Present Standard at the Chicago Cultural Center was praised with overwhelmingly positive reviews from the Chicago Tribune, Newcity, PBS The Art Assignment and Artforum. Soto was recently featured in Newcity's annual Art 50 issue Chicago's Artists' Artists and at VAM Studio 2017 Influencers. In 2018, she was invited to the Creative Chicago: An Interview Marathon, lead by Hans Ulrich Obrist at EXPO Chicago (forthcoming publication). Soto was awarded three MacArthur Cultural Exchanges in the last year. Currently, the Chicago/Puerto Rico exchange is taking place at Museo de Arte de Puerto Rico. During this summer, the Chicago/Cuba exchange will take place at the Smart Museum (IL) and in early 2020, the Chicago/Brazil exchange will meet at Salvador, Brazil.
Soto holds an MFA from The School of the Art Institute of Chicago, and a bachelors degree from Escuela de Artes Plastics de Puerto Rico. She teaches Introduction to Social Engagement at University of Illinois in Chicago and is a Lecturer at the School of the Art Institute of Chicago.
Edra Soto has crowd-funded a project with 3AP
$2,437 raised of $2,150 goal
0 Days 0:00:00 LEFT

3Arts matched
113% funded

Inspired by Chicago's alternative gallery scene, this project aims to give The Franklin a permanent home by relocating and installing this outdoor exhibition space in the backyard of our house located in the Garfield Park neighborhood.

Read more about the Franklin

$6,242 raised of $5,000 goal
0 Days 0:00:00 LEFT

3Arts matched
125% funded

Five years ago, I co-created The Franklin artist-run project space with my husband in the backyard of our home in Garfield Park. Since then, more than 100 artists have presented site-specific works for the visiting public. Perhaps lesser known to …

Read more about The Franklin Collection