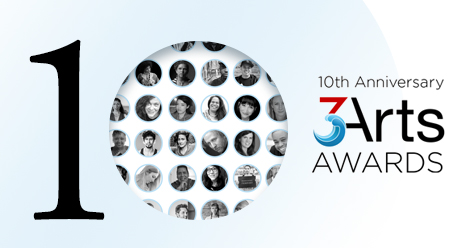 MAKE A WAVE WITH US: November 6
This is a 3Arts Awards celebration like no other.
It's a night when the ten newest recipients of $25,000 3Arts Awards in the performing, teaching, and visual arts are revealed.
It's also a night when we commemorate the occasion of our 10th anniversary, and the immense and indelible mark that Chicago artists make on our city, with an unprecedented artist-to-artist giving program called Make a Wave.
Earlier this year, we invited all of our past awardees to select an artist apiece to receive a surprise $1,000 award, in effect sending a big wave from one artist to another through the city. You will celebrate with all of them when you join us on November 6.
Leading the celebration are Honorary Chairs Senator Tammy Duckworth; Billy Branch, award-winning Blues musician; and Josephine Lee, President and Artistic Director of the Chicago Children's Choir.
Monday, November 6

Cocktails: 5:30 PM
Awards Presentation: 6:15 PM
Celebration: 7:30 – 9:00 PM

Atop our city at The Mid-America Club, Aon Center
200 E. Randolph Drive, 80th Floor, Chicago
PERFORMANCES BY 3ARTS AWARDEES: