2020 Artist Projects on 3AP
published: Feb. 12, 2020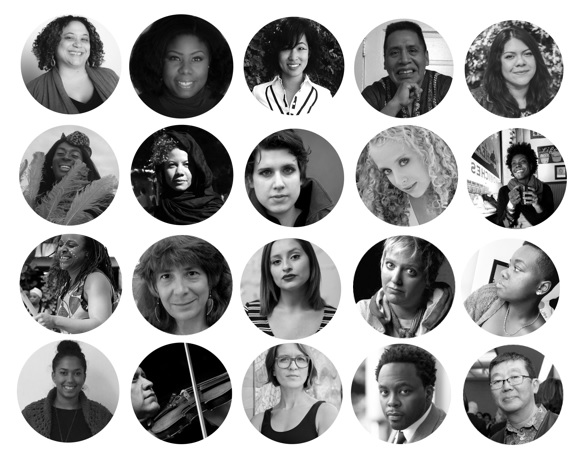 In 2020, new artworks by 20 Chicago artists will be supported on 3AP (3Arts Projects).
3AP is a unique online crowdfunding platform that has a built-in match to help Chicago artists finance new creative work. In addition to matching 1/3 of each project goal, 3Arts charges no fees to artists, produces the project videos, and provides coaching before, during, and after each campaign
Entering its ninth year, 3AP has maintained a 100% success rate with 131 projects funded by more than 6,000 contributions from across the city and beyond. Our most recent 3AP Impact Study (as of February 2020) reports that projects have touched 88,000 audience members including 43,600 Chicagoans in 49 zip codes. Projects engaged an additional 44,500 audience members in 27 U.S. cities and 17 countries.
The primary goals of 3AP are to fuel the development of new work that may otherwise not see the light of day, to help artists gain traction in their careers, and to connect audiences to artists and their work.
In 2020, 3AP is open to artists who have received a 3Arts Award (2008-2018), a 3Arts Fellowship (2008-2018), and/or a 3Arts Make a Wave grant (2017-2018).
FEBRUARY
Meida McNeal, Fifth City Revisited. $5,000 to produce a solo performance and community programming that chronicles the history of Chicago's Fifth City neighborhood and its unique story of community activism and development from the 1960s to early 1990s (February 10 – April 16).
Joelle Lamarre, The Violet Hour. $5,000 to workshop a one-act biopic about the acclaimed operatic soprano Leontyne Price (February 10 – April 10).
MARCH
Aram Han Sifuentes, Voting Kits for the Disenfranchised. $3,500 to create imaginative voting stations for those who cannot legally vote in order to spark debate and empower disenfranchised people during the 2020 election (March 3 – April 17).
MAY
Marti Lyons, HANT. $5,000 to direct a short film based on a theatrical play about a young woman who wants to summon her deceased brother back to life (May 7 - June 21).
T. Ayo Alston, Face to Face. $5,000 to organize a trip to Ivory Coast with youth members of Ayodele Drum & Dance to learn new drumming and dancing techniques (May 11 – June 25).
JUNE
Will Liverman, The Factotum. $5,000 to write and compose a new "hiphopera" that adapts Rossini's classic Barber of Seville to the setting of a contemporary Chicago barbershop (June 3 – July 18).
AUGUST
Darling "Shear" Squire, Beatitudes. $5,000 to recreate a radical environment through dance, performance, and community that shares ideas about the Beat Generation's history and ongoing legacy (August 13 - September 27).
Keyierra Collins, Take Some Leave Some. $5,000 to perform a site-specific dance work reflecting on the historical and contemporary impact of labor on the Black female body (August 20 - October 4).
SEPTEMBER
Anna Soltys, The Space Between. $5,000 to record an album of original songs written and performed in the American indie folk genre (September 18 - November 2).
OCTOBER
James Sanders, Evidencia: New Music for Violin & Afro Latin Ensemble.

$5,000 to record an album of original compositions reflecting a journey as a jazz musician and violinist (October 8 - November 22).

Anna Martine Whitehead, FORCE! $5,000 to produce an opera in three acts about a group of queer trans, femme, and nonbinary folks of color waiting to enter a prison (October 28 - December 12).
Kellie Romany, Hold Me, Feel the Weight of Volumes. $5,000 to produce a limited-edition artist book with ceramic sculptural elements that aims to be a catalyst for discussion about human connections, body, and touch (October 30 - December 14).
NOVEMBER
Halena Kays, Daredevils: No Depression. $5,000 to devise and direct a new theatrical event that investigates physical risk and the relationship of masculinity to art and society (November 6 - December 11).
Alexandra Olsavsky, She Was. $4,000 to commission and perform new vocal works by Chicago female composers that honor unrecognized women in history (November 6 - December 11).
Kelli Simpkins, Queer In(n). $5,000 to build and curate an online art gallery that will commission multidisciplinary LGBTQIA+ Chicago artists to interpret stories from an archive of interviews with queer Chicago youth and elders.