Announcing 2016 3Arts Awards
published: Oct. 3, 2016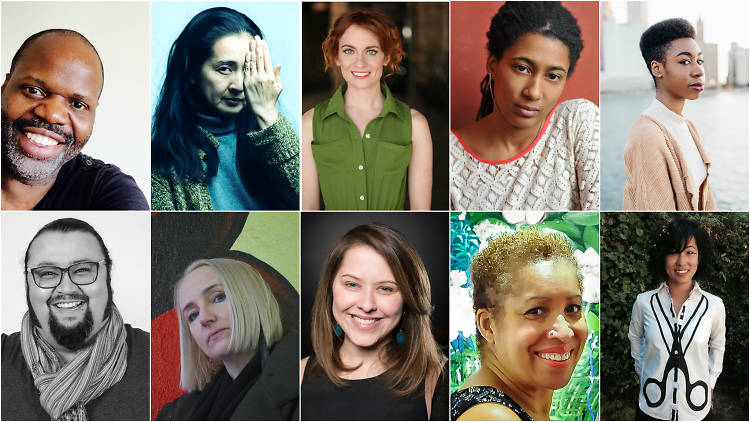 Ten Chicago artists receive a total of $250,000 in unrestricted awards tonight at 9th annual 3Arts Awards
Over $2 million awarded to nearly 400 Chicago artists over nine years
CHICAGO, IL (October 3, 2016)–3Arts is honored to announce the ten recipients of its 9th annual 3Arts Awards, presented to women artists, artists of color, and artists with disabilities working in the performing, teaching, and visual arts. The 2016 recipients are: dancer/choreographers Barak adé Soleil and Ayako Kato; singer/songwriter Jess Godwin and improvisational cellist Tomeka Reid; teaching artists Alexandria Eregbu and William Estrada; theater maker Jo Cattell and director Maggie Popadiak; and visual artists Candace Hunter and Aram Han Sifuentes. 3Arts Awardees each receive an unrestricted $25,000 award to put to use according to their individual needs and priorities. The Chicago-based nonprofit granting organization 3Arts has awarded over $2 million in total to nearly 400 Chicago artists in the past nine years.
The 3Arts awards were presented on Monday, Oct. 3 by the 3Arts Board of Directors and Awards Host Committee in a celebratory gathering at the Museum of Contemporary Art. The event also featured performances by 2015 3Arts awardees Frank Waln and Chihsuan Yang with guests the Sampson Bros. and Matthew Santos.
One of the ten 3Arts Awards, designated as the 3Arts Community Award, is named in honor of 97 individuals who contributed to a crowdfunding campaign designed to engage Chicago citizens in supporting local artists. 3Arts matched one-third of the donations in this joint effort led by the Board of Directors. This year's 3Arts Community Award recipient is William Estrada, a teaching artist dedicated to using artmaking to educate and connect communities across Chicago.
"It seems like yesterday that we launched the 3Arts Awards program! But the truth is that 3Arts has distributed more than $2 million to artists across all of our programs over the past nine years," said 3Arts Executive Director, Esther Grisham Grimm. "We do this work because artists do theirs, continually breathing life into our community. We hope that the 10 newest 3Arts awardees will feel the admiration flowing from our organization—and from all of the Award Partners, local nominators, national jury panelists and citizens who have contributed in so many ways to make this recognition happen."
"3Arts is so excited to celebrate this year's new awardees," said 3Arts Board Chair Marcia Festen. "These awardees are creators of some of the most dynamic work in the city right now. The 3Arts Board of Directors, hand in hand with our supporters, works to raise money to support and uplift these artists because we are keenly aware that their contributions make Chicago a better place to be for all of us."
The ten awardees were selected by national jury panels of their peers, including:
Dance judges: Peter Taub, Independent Curator; and Joan Gray, past President of Muntu Dance Theatre
Music judges: Mark Burford, Reed College Associate Professor of Music; Birdie Soti, Chicago Jazz Philharmonic Executive Director; and Carmen-Helena Téllez, University of Notre Dame Professor of Conducting
Teaching Arts judges: DeAnna Dodds Cummings, Juxtaposition Arts CEO & co-founder; Miko Lee, Youth in Arts Executive Director; and Paul Teruel, Center for Community Arts Partnerships Director of Community Partnerships
Theater judges: Cheryl Lynn Bruce, actor, playwright, and director; Tim Rhoze, Fleetwood-Jourdain Theatre Producing Artistic Director; and Nikkole Salter, actress and writer
Visual Arts judges: Patric McCoy, Diasporal Rhythms President & co-founder; Gordon Sasaki, artist and Wynn Newhouse Awards founding administrator; and Eugene Tsai, John and Barbara Vogelstein Curator of Contemporary Art