December Artist News
published: Nov. 29, 2022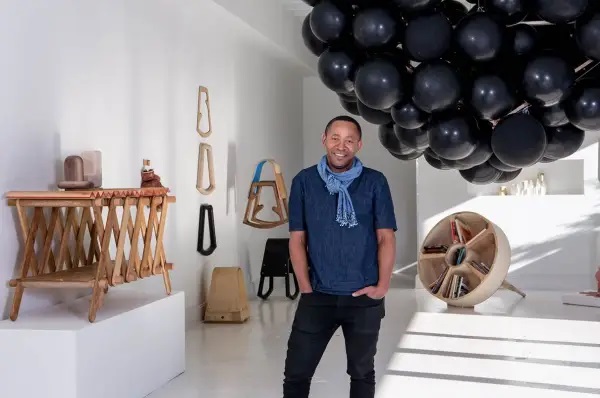 KAREEM BANDEALY (2011 3Arts Awardee), BETHANY THOMAS (2019 3Arts/RH, Restoration Hardware Awardee), and WAI YIM (2022 Make a Wave Artist)
Now through December 31, Goodman Theatre brings back a holiday tradition with their restaging of Charles Dickens' A Christmas Carol. In this year's production, Kareem plays the role of Jacob Marley, Bethany plays the Ghost of Christmas Present, and Wai plays the School Master.
MABEL KWAN (2017 3Arts/RH, Restoration Hardware Awardee) and DAMON LOCKS (2019 3Arts/Reva & David Logan Foundation Awardee)
Mabel and Damon are among the featured performers at the Catalytic Sound Festival, presented at Elastic Arts. On December 1 at 9:30pm CT, Mabel presents a solo set at the first night. On December 2 at 9:30pm CT, Damon performs with Ben Hall (drums, electronics). This is the second annual festival of its kind, billed as a "sprawling international affair" with several events taking place over weekends throughout December in Amsterdam, Asheville, Chicago, Vienna, New Haven, New York, Vienna, Washington DC, and Trondheim.
DIANNA FRID (2018 3Arts/Chandler Family Awardee)
On December 2, Dianna participates in an artist talk with John Neff on the occasion of her solo show of new, one-of-a-kind artist's books and other works at Alan Koppel Gallery in Chicago.
CHARLES "POPPIN CHUCK" BLEDSOE (2021 3Arts Awardee) and ELGIN BOKARI T. SMITH (2018 3Arts/Denise & Gary Gardner Awardee)
On December 3 from 12:00 to 6:00pm CT, the tenth annual Pocket Con event takes place at the Chicago Cultural Center, organized by Elgin through his role at the Stomping Grounds Literary Arts Initiative. Pocket Con is billed as "Chicago's only comics convention for youth featuring the work of artists of color, women, and LGBTQ creators." The convention opens with a performance by Poppin Chuck and Goldgrrl, as members of the FUNKBOTNOTs. Other highlights include a talk by Eve Ewing about "Women in the Comics Industry," an interview with Tim Samuelson, and Elgin in conversation with four comic artists about "Fly Notes: Hip Hop and Black Nerd Culture."
Register for free here: https://www.eventbrite.com/e/pocket-con-2022-tickets-444806467117
Read the full schedule here: http://pocketcon.org/
CAT MAHARI (2021 3Arts/Walder Foundation Awardee)
On December 6 at 5pm CT, Cat presents a new performance work-in-progress showing of Blk Ark: the Impossible Manifestation, a 2022 3AP crowdfunded project, at the MCA's Commons space. The performance asks, "what will it take to get free?" and "can we see a new world from here?" The work is a part of the MCA's In Progress series designed to give artists, thinkers, and curators a platform for developing new works with input from audiences/.
IVELISSE DIAZ (2019 3Arts/Community Awardee)
On December 10 at 11:30am CT, Ivelisse will perform with Las Bompleneras at the Museum of Contemporary Art's free Family Day celebration. Las Bompleneras is a local all-women group that has been uplifting and bringing visibility to the role and power of women in Puerto Rican Bomba y Plena since 2010.
KRISTA FRANKLIN (2017 Make a Wave Artist) and BEN LAMAR GAY (2018 3Arts/Stan Lipkin & Evelyn Lipkin Awardee)
On December 10, DePaul Art Museum presents a gallery talk with Krista followed by a performance by Ben, as part of Krista's exhibition, Solo(s): Krista Franklin, currently on view through February next year.
JOVIA ARMSTRONG (2011 3Arts/Siragusa Foundation Awardee), NICOLE MITCHELL (2011 3Arts Awardee), and COCO ELYSSES (2021 Make a Wave Artist)
On December 12, these members of Black Earth SWAY will bring "liberation through Afro-Rachet-Folk-Futurism in celebration of open spirits and Black sisterhood" to The Promontory in Hyde Park. The ensemble includes JoVia, Nicole, and Coco, joined by Alexis Lombre.
JUMAANE TAYLOR (2019 3Arts/Stan Lipkin & Evelyn Appell Lipkin Awardee)
On December 12, Jumaane performs in Holiday Rhythms at the Jazz Showcase, presented by Chicago Human Rhythm Project. Billed as an opportunity to witness "the marriage of tap dance with live jazz," the evening will feature the premiere of The Jazz Hoofing Quartet, featuring Isaiah Spencer on drums, Marlene Rosenberg on bass, Brent Griffin Jr on alto saxophone, Justin Dillard on piano, and Jumaane on taps.
LAURA ALCALA BAKER (2021 Make a Wave Artist)
From December 14 through 17, Laura is directing a work-in-progress full staging of Nancy Garcia Loza's new play, Rust, at Goodman Theatre as part of its 2022 New Stages Festival. All festival performances are free and open to the public, with advance registration. Synopsis of Rust: "Güera, a young pocha, is trying very hard to be a perfect Mexican daughter and contain her glaring imperfections. The hot Chicago summer has her climbing trees, fighting with her brothers, and melting like a paleta under her parents' searing gaze. Suddenly, when Abuelo moves in, Güera wonders if she really has to be perfect at all. Why be perfect when you can be free?"
OMER ABBAS SALEM (2022 3Arts/SIF Fund at The Chicago Community Foundation Awardee) and LAVINA JADHWANI (2021 Make a Wave Artist)
On December 18 at 10:30am, Abbas's new play, Modern Women, will have a free, script-in-hand staged reading at Goodman Theatre as part of its 2022 New Stages Festival. Directed by Lavina Jadhwani, Modern Women tells a story of multiple generations of Arab and Indian friends who find comfort in the routine but are forced to navigate the changing world outside together.
NORMAN TEAGUE (2019 3Arts/Denise & Gary Gardner Awardee)
On December 20 from 2:00 to 4:00pm CT, Norman will discuss his work currently on view at The Art Center of Highland Park. His exhibition, Objects for Change, is part of The Art Center's focus on three artist/designers working in various mediums to create art in 3D. Learn more about the exhibition (on view until December 30): https://theartcenterhp.org/contemporary-art-exhibitions/.
download PDF ↓