March Artist Events
published: Feb. 27, 2022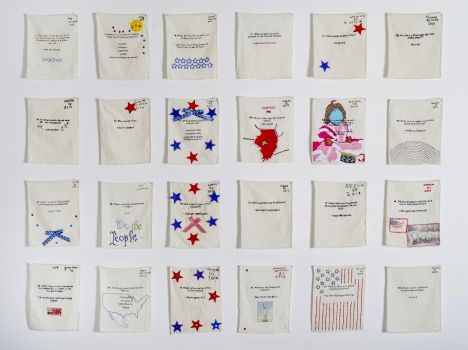 News:
NEJLA YATKIN (2012 3Arts Awardee)
Nejla has been awarded the first Sybil Shearer Fellowship in the new Sybil Shearer Studio at Ragdale to be held in Spring 2022. During her residency, Nejla will develop A Dance For A Time Being, a 3AP- funded video and augmented reality dance project celebrating how identity is shaped by community and place.
Events:
NORMAN LONG (2011 3Arts Awardee)
On March 1, Norman will perform with collaborator, X Espinoza as the ESPINOZA/LONG DUO at the Empty Bottle. With Norman playing electronics/percussion, and X on reeds/percussion, the duo explores "the sonic depths of terrestrial soundscapes into the unknown reaches of the cosmos."
ARAM HAN SIFUENTES (2021 Next Level/Spare Room Awardee and 2016 3Arts/Stan Lipkin & Evelyn Appell Lipkin Awardee)
Aram has a solo exhibition at Museum of Contemporary Art Cleveland through June 2022. Her exhibition, Who Was This Built to Protect, explores "sewing as a medium to investigate citizenship, protest, and belonging in the United States.". Viewers will have an opportunity to connect with Aram on March 2 as she takes over the moCa's Instagram and on March 9 (7pm ET) as she converses with her collaborators about the Official Unofficial Voting Station.
DAMON LOCKS (2019 3Arts/Reva & David Logan Foundation Awardee)
On March 3 (12pm CT), Damon will be in conversation with Johny Pitts and Citlali Fabián about the work they each have on view in the group exhibition Beautiful Diaspora / You Are Not the Lesser Part, at the Museum of Contemporary Photography through June 26, 2022.
HEATHER GILBERT (2012 3Arts Awardee)
Heather is the lighting designer for the world premiere of Wife of a Salesman, a new play by Eleanor Burgess. "Taking inspiration from Arthur Miller's Death of a Salesman, this world premiere play imagines how a potentially combustible confrontation brings themes of marriage, duty, and division to the surface—and the ways in which the world has, and hasn't, changed across generations." Presented by Writers Theatre in association with Milwaukee Repertory Theater, the play runs March 3 through April 3 in the Alexandra C. and John D. Nichols Theatre at 325 Tudor Court, Glencoe.
IVELISSE DIAZ (2019 3Arts Community Awardee)
On March 5, Ivelisse is helping to organize and performing in Somos La Plena, a Chicago celebration of the life and legacy of Tito Matos, taking place live at the Segundo Ruiz Belvis Cultural Center.
CAITLIN EDWARDS (2021 3Arts/Walder Foundation Awardee)
On March 10 (8pm CT), Caitlin co-curated and is performing with Angelo Hart in Aux-In: Connected! at Hungry Brain as part of the Fulcrum Point New Music Project. Caitlin will present music that "delves into the subject of stillness, joy and peace, written by phenomenal black composers." Proof of COVID vaccination is required upon entry.
ANDY SLATER (2018 3Arts/Bodies of Work Fellow)
On March 10, as a part of Gallery 400's Crip* exhibition, a screening of Andy Slater: An Evening of Soundbased Works will explore Andy's evocative sound works combining "distorted field recordings, alternative texts, and the singular rhythms and sonic colors of vintage accessible technologies." The event is in-person and visitors must provide proof of vaccination or a negative PCR test to attend. The screening will include ASL, live captions, and alternative texts. Hearing loops, mobility devices accessibility and companion seating are also available.
KEYIERRA COLLINS (2020 3Arts/Walder Foundation Awardee), VERSHAWN SANDERS-WARD (2013 3Arts/Southwest Airlines Awardee), and KEISHA JANAE (2020 Make a Wave Artist)
As a part of the Chicago Artists Performance Platform, Keyierra, Vershawn, and Keisha are participating in the South Loop Spark Plug program at the Dance Center on March 11-12. There will be a post-performance discussion with the choreographers following the March 11 performance.
TARA MALLEN (2017 3Arts/William Franklin Grisham Awardee) and KRYSTEL MCNEIL (2018 Make a Wave Artist)
Both Tara and Krystel are cast in the world premiere of Spay, a "provoking new drama about the effect of America's opioid epidemic in one small West Virginia town," playing at Rivendell Theatre Ensemble from March 12 through April 17.
SHANTA NURULLAH (2021 3Arts/SIF Fund at The Chicago Community Foundation Awardee)
The Shanta Nurullah Trio will be performing at the Glenview Public Library (1930 Glenview Rd, Glenview, IL) on March 13. The performance will include Shanta performing spoken word and sitar, Alex Wing on guitar, oud, and bass, and Fred Jackson Jr. playing saxophones.
BEN LAMAR GAY (2018 3Arts/Stan Lipkin & Evelyn Appell Lipkin Awardee)
Ben is among the featured lineup of performers at the Big Ears Festival on March 26 in Knoxville, Tennessee. "Ben Lamar Gay will lead a quartet to play selections from his upcoming album, Open Arms to Open Us. Ensemble Dal Niente and saxophonist Ken Vandermark are teaming to perform a new composition by Roscoe Mitchell, and the ensemble will also doing free performances throughout the festival weekend at the Knoxville Museum of Art."
WILL LIVERMAN (2017 3Arts/Stan Lipkin & Evelyn Appell Lipkin Awardee)
On March 24-27 and March 29, Will is reprising his role in Fire Shut Up in My Bones at Lyric Opera. The opera is based upon New York Times columnist Charles M. Blow's memoir and his youth in Louisiana. Proof of vaccination is required for in-person attendance. Performances will also be available on-demand via streaming.
BARAK ADE SOLEIL (2016 3Arts/Denise & Gary Gardner Awardee)
On March 31, Barak will be a featured presenter in the School of the Art Institute of Chicago's (SAIC) Visiting Artist Lecture series. As described by SAIC, Barak "bridges the lived experience of being Black, queer, and multiply disabled with traditions from the African diaspora, access aesthetics, and postmodernism to create multilayered live art works and cultivate stimulating global conversations." This event is free, virtual, open to the public, and includes an audience Q&A. Registration is not required.
download PDF ↓