June Artist News
published: May 25, 2022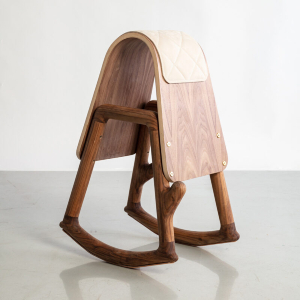 NORMAN TEAGUE (2019 3Arts/Denise & Gary Gardner Awardee)
Now through July 14, Norman is presenting an exhibition of his design work in the storefront windows of The Art Center in Highland Park. The Center also published an online profile entitled "Norman Teague: Design, Community, and Compassion." The exhibition location is 515-555 Roger Williams Ave in Highland Park, Illinois.
TIRTZA EVEN (2021 3Arts Next Level/Spare Room Awardee and 2017 3Arts/Reva & David Logan Foundation Awardee)
On view now through August 6, one of Tirtza's newest video works is exhibited at Gallery 400 in Chicago. Chronicle of a Fall is an immersive, feature-length video installation depicting the fragmented, transient experience of a group of immigrants in the US. It begins with a simple question asked of a group of six immigrant cultural workers, primarily from the Middle East and the Global South: "What is home to you?" This piece is a co-production with Nadav Assor.
BEN LAMAR GAY (2018 3Arts/Stan Lipkin & Evelyn Appell Lipkin Awardee)
On June 1, Ben opens a live double-bill concert at Navy Pier's Lake Stage as part of the Chicago Humanities Festival. His performance will be followed by KAINA, another local music artist who similarly channels multiple genres and styles with her music. The concert culminates with a fireworks display on the pier.
MICHAEL PATRICK THORNTON (2009 3Arts Awardee)
Beginning June 1, Michael's newest work, entitled Mud City, will be presented as a world premiere radio play by The Gift Theatre. Mud City is a ten-episode radio drama and the largest collaboration in Gift history. "The year is 1940, and Lacey McGill—once Mud City's most fearsome journalist, now a hard-drinking, down-on-her-luck private eye—finally gets a crack in the case surrounding the disappearance of her daughter four years ago. In a crooked city of mob bosses, business tycoons, and secret clubs, Lacey McGill and her best friend Narrator go against them all to answer a call to an adventure that changes everything."
MATT BODETT (2019 The MacDowell Colony Fellow), KRIS LENZO (2015 3Arts /David Pinkerton Awardee), ANDY SLATER (2018 Bodies of Work Fellow), and ROBBY LEE WILLIAMS (2021 3Arts/Bodies of Work Fellow)
On June 4-5 and 11-12, Matt, Kris, Andy, and Robby are among several artists presenting performances and/or installations as part of Unfolding Disability Futures, a series of site-specific works by local disabled artists on location at The Plant. "Performances and installations highlight how The Plant has been redeveloped to make the building accessible in ways that are both functional and beautiful, proposing access not as a drain but a plentiful resource."
DIANNA FRID (2018 3Arts/ Chandler Family Awardee)
On June 9, Dianna and poet Victoria Chang will be in conversation at the Dia Chelsea in New York City in a series devoted to visual art and poetry. Sharing an interest in the obituary, the two artists "are intrigued by its use as a formal device to summarize and narrate a life as well as its purpose as a private and public expression of loss." This event takes place in-person at Dia Chelsea in New York.
ASHWATY CHENNAT (2020 Make a Wave Artist), ANNA MARTINE WHITEHEAD (2018 3Arts/HMS Fund Awardee), AYANNA WOODS (2017 Make a Wave Artist), and TULI BERA (2021 Make a Wave Artist)
From June 10 – 18, these artists are among the featured presenters at this year's Pivot Arts Festival, a celebration of contemporary performance and film. Ashwaty presents two works: a new Dance on Film! piece supported by the Chicago Dancemakers Forum (June 12) and Beaten Path, a dance-music performance that merges Carnatic and Black American jazz influences (June 17-18). Tuli's Bangali Meye! will be performed along with Beaten Path (June 17-18). Martine and Ayanna present the new iteration of FORCE! an opera in three acts, as a work in progress, created by Martine and featuring a musical composition by Ayanna (June 16).
LILI-ANNE BROWN (2021 3Arts/Stan Lipkin & Evelyn Lipkin Awardee), SYDNEY LYNNE THOMAS (2020 3Arts Awardee), SYDNEY CHARLES (2020 Make a Wave Artist), and CHRISTINE PASCUAL (2018 3Arts/Lakeside Bank Awardee)
From June 11 – July 17, as Resident Director at Victory Gardens, Lili-Anne is directing the regional premiere of cullud watah, written by Erika Dickeron-Despenza. The play follows a third-generation General Motors assembly line worker struggling with impending layoffs and the water crisis in Flint, Michigan. Sydney Charles is a member of the cast, playing Ainee, Sydney Lynne is the show's scenic designer, and Christine Pascual is the costume designer.
CHERYL POPE (2015 3Arts/Stan Lipkin & Evelyn Appell Lipkin Awardee)
From June 11 through July 30, Cheryl presents a solo show of new work called Variations on a Love Theme at Monique Meloche Gallery.
AVERY R. YOUNG (2012 3Arts/Merrill Lynch Awardee)
Opening June 11 (and continuing through October 17), the Floating Museum presents a new site-specific installation entitled A Lion for Every House at the Art Institute of Chicago. avery is one of four co-directors of the Floating Museum along with Jeremiah Hulsebos-Spofford, Faheem Majeed, Andrew Schachman. Working with Art Institute curators, the co-directors mined the photography collection to build a further connection between the museum and its communities, while also assembling a new public space in the museum galleries.
CAT MAHARI (2021 3Arts/ Walder Foundation Awardee), NEJLA YATKIN (2012 3Arts Awardee), and KEISHA JENAE (2020 Make a Wave Artist)
As selected artists in the 2022 Links Hall Co-MISSION program, Cat, Nejla, and Keisha will present performances during the annual Festival of New Works taking place at Links Hall over two weekends in June. On June 16 and 18, Nejla presents A Dance Without a Name; on June 19* and 25, Cat presents Blk Ark: the Impossible Manifestation; and on June 19* and 26, Keisha (aka KJ Light) presents a new piece with her Eternal Resolve ensemble. (*Performances on June 19 are free to Black audience members in honor of the Juneteenth holiday (with promo code JUNE19).
NICOLE CABELL (2010 3Arts/Northern Trust Awardee)
On June 17–19, Nicole makes her debut with Haymarket Opera, alongside tenor Gregory Agpalo in Joseph Bologne's only surviving opera, L'Amant Anonyme (The Anonymous Lover). This piece will be part of an evening of opera performances in DePaul University's Jarvis Opera Hall, the new homebase for Haymarket Opera.
JACQUELINE WILLIAMS (2011 3Arts Awardee)
On June 19, Jacqueline is among the honorees at this year's Congo Square Theatre's Vision Benefit celebrating over 20 years of producing transformative Black theater. The event takes place in-person at the Zhou B Art Center in Chicago.
DEE ALEXANDER (2012 3Arts/Southwest Airlines Awardee)
On June 23, Dee performs with the nineteen-piece Chico Freeman Orchestra at the Logan Center. In honor of the legacy of the Freeman family, Chico Freeman has composed a new extended suite, "The Legacy Project," orchestrated by John Kordalewski.
download PDF ↓