April Artist News
published: March 23, 2023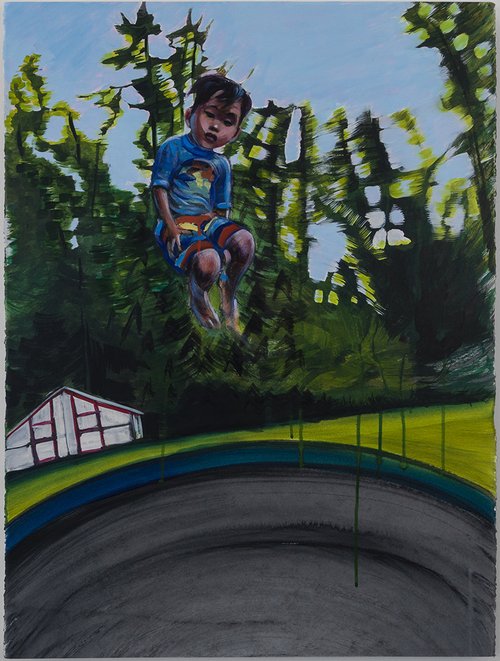 REGIN IGLORIA (2011 3Arts Awardee) and LAURA KINA (2021 Make a Wave Artist)
Now through May 6, both Regin and Laura have work on view at the Riverside Arts Center. In One Ends Another Begins Regin presents drawings and artists books exploring movement and travel through depictions of wanders and walkers. In Over the Rainbow, One More Time, Laura shows paintings and mixed media art that "traces her journey and memories through trauma into wellness and the unknown."
MABEL KWAN (2017 3Arts/RH, Restoration Hardware Awardee)
On April 6, Mabel performs on piano at Elastic Arts for their Improvised Music Series. The set will open with a solo performance by Berlin reedist, S-Edith teyer, and will be followed by a trio performance with teyer, percussionist Michael Zerang, and Mabel.
DEE ALEXANDER (2012 3Arts/Southwest Airlines Awardee)
On April 7, Dee performs with the Metropolitan Jazz Octet in a celebration of Billie Holiday's birthday at Studio5 Performing Arts Center in Evanston.
AMI SARAIYA (2011 3Arts Awardee) and ANNA SOLTYS (2017 Make a Wave Artist)
On April 8, Ami and Anna both perform at Red Light Lit: Chicago, a live series devoted to writers, artists, and musicians who explore love, relationships, sexuality, identity, and gender. They will each perform, along with singer-songwriter Luna Malbroux.
CIERA MCKISSICK (2019 Make a Wave Artist), POOJA PITTIE (2022 Next Level/Spare Room Awardee), CANDACE HUNTER (2021 Next Level/Spare Room Awardee and 2016 3Arts/Chandler Family Awardee), ZAKKIYYAH NAJEEBAH DUMAS-O'NEAL (2022 3Arts/Gary & Denise Gardner Fund Awardee), CECIL MCDONALD JR (2010 3Arts Awardee), and many more
On April 10-16, many artists will participate in EXPO Chicago Art Week with exhibitions, workshops, conversations, and performances at art venues across the city. On April 13-16, more than 170 exhibitors will present work by Chicago's contemporary art community at Navy Pier.
STEPHANIE MARTINEZ (2015 3Arts/Restoration Hardware Awardee)
On April 14 and 15, as artistic director of PARA.MAR Dance Theatre, Stephanie will present a new work in a season-opening program called Pivotal. The evening will also feature world premieres by Hélène Simoneau and Yin Yue. Performances take place at the Epiphany Arts Center.
CAULEEN SMITH (2013 3Arts/Lydia Yun Lee & Lisa Yun Lee Awardee)
On April 14, the Gene Siskel Film Center presents a screening of Cauleen's feature film Drylongso, described as "an incisive look at racial injustice within a lovingly handmade buddy movie/murder mystery/romance." The screening will be followed by a Q&A with Cauleen. Additional showtimes will be announced by April 7.
IVELISSE DIAZ (2019 3Arts Community Awardee)
On April 15, Ivelisse celebrates the grand opening of a new space that will house La Escuelita Bombera de Corazón, the Afro-Indigenous diasporic performing arts school she founded. The opening day will feature free Bomba workshops and performances, kicking off at 10am with a ribbon cutting in front of the new location (3505 W. North Avenue).
JUMAANE TAYLOR (2019 3Arts/Stan Lipkin & Evelyn Appell Lipkin Awardee)
On April 20 and 21, Jumaane presents Supreme Love at the Dance Center of Columbia College. "In celebration of John Coltrane's A Love Supreme and inspired by the legendary "Tree of Hope," Jumaane Taylor's Supreme Love displays the spiritual, artistic, and historical values that infuse human life. Tap dancers and a quartet of live musicians exchange expressive musical opinions, rediscovering themselves and their art within improvisation to Coltrane's compositions."
MEIDA MCNEAL (2017 3Arts Awardee)
On April 21-23 and April 28-30, Meida and her fellow collaborators at Honey Pot Performance present Ladies Ring Shout 2.0. The performance will combine spoken word, movement, and an original soundtrack journeying through women of color's experiences in reality and in conjuring future possibilities.
WINIFRED HAUN (2022 3Arts/Walder Foundation)
On April 23, Winifred Haun & Dancers and the Cerqua Rivera Dance Theater are among 15 dance companies performing works in the Trifecta Dance Festival at the Athenaeum Theater. "This performance is a chance to see Chicago's professional companies all at one event. By bringing together multiple dance companies we hope to share the talent of dance that is in our own community."
ERIN KILMURRAY (2017 Make a Wave Artist) and RIKA LIN (2017 Make a Wave Artist)
On April 26, as Links Hall Co-Mission Fellows, Erin and Rika will perform works-in-progress at the venue as part of its spring season. The artists invite audiences into their creative process as they share their explorations while incubating in the white box studio at Links Hall.
AYAKO KATO (2016 3Arts/Reva & David Logan Foundation Awardee)
On April 29 and 30, Ayako is contributing a solo dance performance as part of Enso: A Multimedia Ikebana Exhibit & Performance taking place at Elastic Arts. Inspired by enso, or the circular Zen image that begins and ends at the same time and place, the evening will feature "traditional Japanese arts of chado (tea ceremony), kado (ikebana), and origami fused with contemporary music, video, and dance."
download PDF ↓